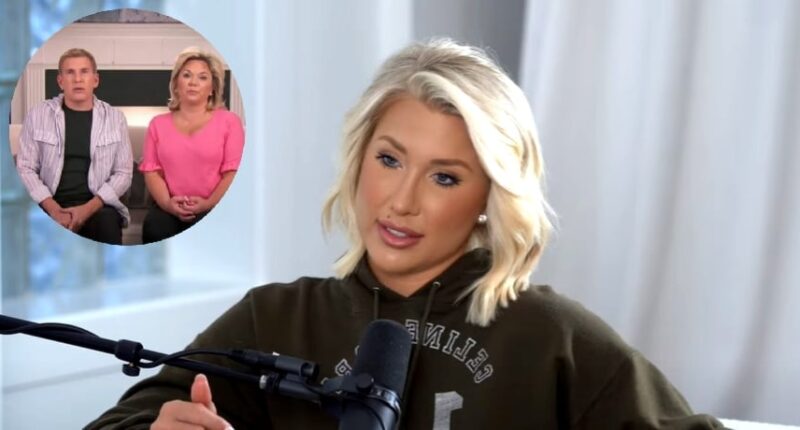 Latest posts by Trisha Faulkner
(see all)
Todd and Julie Chrisley surrendered to serve 12 and 7 years behind bars on January 17 of this year just before 10 in the morning. Surprisingly, it is just a few weeks away from approaching month five of Savannah's parents being behind bars. Tragically, Savannah Chrisley confirmed during the most recent episode of her podcast that her father and mother have not spoken in four months. The reality TV princess found this to be especially tragic as the two had been married for over three decades and it has been four months since they heard each other's voices.
Savannah Chrisley confirms Todd and Julie haven't spoken to each other
Per federal prison policy, Todd and Julie Chrisley are unable to communicate with each other. This is largely because the federal prison phone system just isn't set up for one inmate to be able to call another inmate (even if they are married and at different facilities).
Savannah Chrisley proceeded to explain that her mother gave her somewhere between 30 and 40 handwritten letters the last time she went to visit her. She explained that her mother would write a letter every single day. Documenting what was going on with her. More importantly, she was sharing what she was thinking and feeling. Sadly, Savannah revealed that every single day, and in every single letter, Julie documented how much she missed her husband Todd.
They don't get to talk. So we're like, what, four months in, almost, and being together almost 30 years and not going a day without speaking, to now going on four months is a lot."
As Tv Shows Ace previously reported, they are able to communicate via email. But, they are not allowed to talk on the phone or see each other. Savannah had previously revealed during a podcast that Todd and Julie weren't even allowed to communicate via email at first. She explained a special request had to be put in giving them permission to communicate that way. Unfortunately, the request took a little time. So, there was a period of time when Todd and Julie were cut off from each other completely.
At this time, Todd and Julie will be able to speak with Julie gets released from prison. The only way that could happen sooner is if their appeal calls for them to return to court.
Understandably, Savannah is heartbroken for her parents.
Did you know that Todd and Julie Chrisley were not allowed to speak? Share your thoughts with us in the comments. And, keep coming back for more Chrisley news.