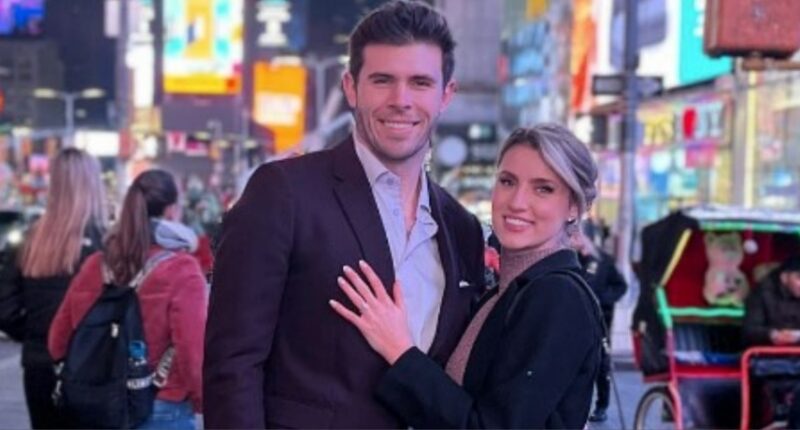 The Bachelor Zach Shallcross and Kaity Biggar look completely smitten in their newly shared, unique engagement photos. Both Zach and Kaity shared the adorable photos on social media. Keep reading to find out more and see the photos.
Bachelor Zach Shallcross and Kaity Biggar share engagement photos
Zach Shallcross and Kaity Biggar both shared photos from this unique photo shoot. They can't seem to get enough of how perfect these engagement pics look. The photographer was on point in capturing their love for one another.
Kaity stunned in white dresses and Zach looked handsome in colors that made their surroundings pop even more. They also each had adorable captions for their posts on Instagram. Zach wrote, "Life is just better with you in it." Kaity replied saying, "😩🥹💖 you cutie! I love you!"
Kaity shared photos in one post and a video compilation of the pictures in another post. Some of their photos were taken in an old truck. She captioned the post, "What's that thing get like 10 miles to the gallon?" Zach replied to her post writing, "That's my boo thang 😮"
Zach shared different photos than Kaity did with one spectacular shot of them both lying on a black and white checkered floor. They are lying on their backs facing opposite directions with each of them resting on the other's shoulder. Kaity affectionately touches Zach's cheek with one hand as they hold hands with the other.
In another photo, Kaity is standing in front of Zach and pouring champagne into his mouth as he kneels on one knee.
These photos definitely show how much love Zach and Kaity have for each other.
Fellow alums commented
Many fellow Bachelor Nation alums commented on their photos. Jason Tartick noted wanting to get drinks next time Zach and Kaity are in Nashville. Charity Lawson said, "absolutely breathtaking, so stunning 😍🫶🏾"
Others from Zach's season also commented on how stunning they both look. Some of them who commented are Jess Girod, Greer Blitzer, Kat Izzo and Davia Esther Bunch.
Fans also commented how Zach and Kaity's love gives them all the feels. Others simply said how gorgeous the pictures are. Some noted the photos show their love and also how much fun they have together.
What do you think of Zach and Kaity's latest set of engagement photos? Are they your favorites so far?
Stay tuned for more updates on Zach and Kaity and all your favorite Bachelor Nation alums.
Latest posts by Jamie Colclasure
(see all)