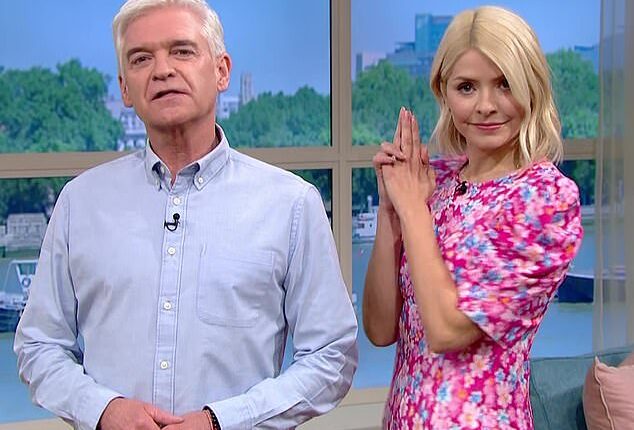 Eamonn Holmes has said he does not think Holly Willoughby will return to the This Morning sofa and called on her to follow Phillip Schofield 'close out the door'.
The former stand-in presenter on This Morning also weighed in on claims of  'toxicity' at This Morning, saying that Schofield was 'so rude' and 'Holly doesn't know people's names either'.
Predicting that Willoughby won't return to the show after the school half-term break, Holmes told Dan Wootton: 'I don't think you will ever see Holly Willoughby back on the couch.' 
He went on to claim that Willoughby would be battling to protect her brand, telling GB News: 'There are people who are financial experts who will say this is about brand protection for her company and her advertising deals.' 
Willoughby is reportedly determined to fight on to keep her spot on the sofa, despite the chaos at the programme caused in part by Schofield's revelations that he lied about his affair with a much younger man.
Eamonn Holmes has called for Holly Willoughby to follow her disgraced former co-presenter Phillip Schofield 'out the door'
In a bombshell interview with GB News last night, Holmes, a former presenter of This Morning, accused ITV of covering up Schofield's relationship and branded him a 'chief narcissist'
ITV and Willoughby's representatives have been contacted for comment.
Willoughby is paid £730,000 a year to present This Morning but has a growing business empire, estimated to be worth £10million. 
She has amassed the huge fortune not only through her television portfolio, presenting shows including I'm A Celeb to Dancing with The Stars, but a series of lucrative brand deals from Marks and Spencer to Diet Coke. 
And in 2021, she launched her own wellness and lifestyle brand Wylde Moon, akin to Gwyneth Paltrow's Goop. 
When Schofield announced he was leaving This Morning, Willoughby wrote on Instagram that 'the couch will seem so empty without him'.
But Holmes blasted this statement, saying: 'She should be dancing on the couch, because that's what she was looking for forever.'
Referring to a statement Schofield released yesterday, in which he defended This Morning against claims of a toxic working environment, he said: 'This nonsense that he wrote today about toxicity, but it's a happy place and whatever, Holy God, what planet does this man live on? 
'He created an atmosphere where people hated him, that people would put avoid them in the corridor, he didn't look at anybody, he didn't know anybody's name. 
'Holly doesn't know people's names, either. This is legendary within the production teams, that how distant they are and how they just don't care.'
Holly Willoughby has signed a number of lucrative brand deals from Diet Coke to M&S and Garnier away from her presenting work on ITV
During the interview, Holmes told of how his wife Ruth Langsford is still in touch with Schofield's ex-lover 
Others have called for Willoughby to go, including former culture secretary Nadine Dorries who said the presenter 'has questions to answers'.
She has been off-air since Schofield's sudden departure, though this was due to a planned holiday for the school half-term break. Willoughby has three children.
The presenter of 14 years standing on This Morning is expected to make a return to the programme on June 5.
A source told the Mirror: 'Holly wants to stay at This Morning as long as she can and hopes to ride out the scandal. Other stars like Stephen Mulhern are being approached to fill in for Phil when she returns. Some are reluctant to go in and face angry viewers.
'Holly is determined to stay put – the only reason she would leave now is if This Morning is axed. She has absolutely no plans to leave.'
Throughout Holmes's interview he made a series of allegations surrounding the Schofield scandal, which has plunged ITV into a crisis, with sponsors pulling out of multi-million-pound deals.
Holmes, who used to stand in for Schofield on This Morning but has since moved to GB News, said his former colleague, 61, had allowed his 'fame and power' to 'corrupt' him.
Holmes also told how his wife Ruth Langsford is still in touch with Schofield's ex-lover, who was described as a 'lovely fella', and 'life is tough' for him.
Schofield admitted on Friday that he had lied about his relationship with the man.
Holmes told his fellow GB News presenter and MailOnline columnist Wootton he had decided to stand up for 'people who hadn't got a voice'.
Speaking of the scandal engulfing ITV, Holmes said: 'It's a total cover up. Those in authority had to know.
On Schofield admitted on Friday that he had lied about his relationship with the man, plunging ITV into meltdown and losing millions of pounds of sponsorship deals in the aftermath
When approached by a GB News producer, ITV's managing director of media and entertainment Kevin Lygo refused to answer questions about Schofield
'They had to know what was going on and they thought they would dodge the bullet which they did and they do constantly.'
Holmes claimed that Schofield and his young lover would go out and enjoy 'playtime' on Thursdays, with the man staying overnight at his £1 million London flat.
The following day, the pair would arrive at ITV Studios in separate cars from Schofield's home, he added.
'All I'm here to do is to speak for people who hadn't got a voice… I'm speaking on behalf of them,' he added.
Holmes said: 'Usually on a Friday morning, because Thursday was playtime when he and Phillip would hit the town and then he obviously stayed overnight. There are records to show that he was brought in the next day separately in cars paid for by ITV.'
ITV's managing director of media and entertainment Kevin Lygo refused to answer questions about Schofield after being questioned in the street by a GB News producer.
He was asked outside a station whether there had been a 'cover up' of the affair, but  Lygo walked away, telling the producer: 'We really have no more to say.'
ITV has continued to insist that it carried out an investigation in 2020 after rumours of Schofield's affair with a younger male employee began to circulate.
ITV maintains both parties were interviewed, sources close to his former lover said he was never quizzed on the matter.
Post source: Trending Today London