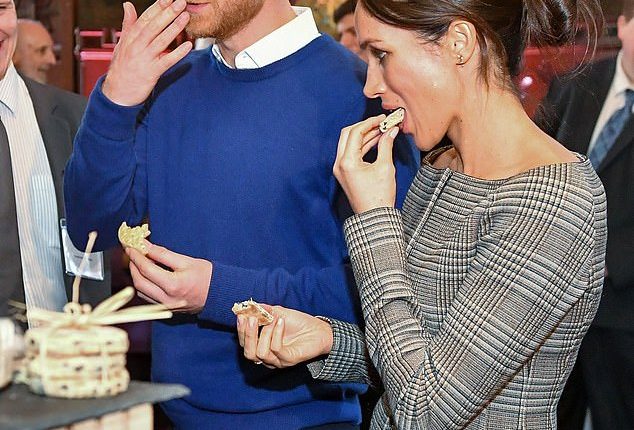 A YouTube star who is famous for rubbing shoulders with celebrities while challenging them to feast on agonizingly spicy chicken wings has jokingly thrown down the gauntlet to Prince Harry – agreeing that the wayward royal 'doesn't have the palace or the palate' to stomach his fiery food.
Sean Evans, the Illinois-born host of popular interview series Hot Ones, has sat down with everyone from Scarlett Johansson and Bryan Cranston to Oscar winner Cate Blanchett, all of whom have bravely chewed their way through his ten-round spicy wing challenge while answering his searingly personal questions. 
But when it comes to Harry, 38, Evans says he is doubtful the royal – or indeed many of his fellow Brits – could cope with the spicy trial. 
Poking fun at the Duke of Sussex's sensational decision to quit the Monarchy along with his wife Meghan Markle, Evans laughed along with  DailyMail.com at the launch of his collaboration with Emmett's on Grove pizzeria – suggesting that Prince Harry 'doesn't have the palate or the palace.' 
Prince Harry (pictured with his wife Meghan Markle in 2018) has become the butt of a joke from another on-screen host in the US – this time the host of popular YouTube series Hot Ones
Sean Evans, 36, says he doesn't think Harry has the palate to take on the spicy hot wings challenge on his hit celebrity interview show Hot Ones 
The Illinois native exclusively spoke to DailyMail.com at the launch his new collaboration with Emmet's on the Grove restaurant
Hot stuff: Irish One Direction singer Niall Horan appeared recently on the hit TV show
British actress Millie Bobby Brown also stepped up to the plate but struggled to complete the challenge – and Evans says he fears most Brits don't have the ability to stomach his wings 
However Harry isn't the only person who Evans doubts can master his ten-wing challenge – claiming that he fears most Brits struggle to deal with ultra-spicy dishes. 
'Sometimes historically, you worry about the British palate,' Evans said. 'Guess we'll see, it's hard to predict. I've learned to never underestimate anybody. 
However he confessed that he wouldn't know how to go about getting in touch with the Sussexes, joking: 'How do you even reach them?' 
The Duke and Duchess of Sussex have been holed up in their Montecito Mansion with their two children Prince Archie and Princess Lillibet, since they stepped back as senior royals to become financially independent, in 2020. 
Earlier this year, the Duke and Duchess of Sussex confirmed they were 'vacating' their remaining UK home base Frogmore Cottage which sits on the grounds of Windsor Castle. 
A source told  PEOPLE the Duke and Duchess of Sussex were 'matter-of-fact' about being asked to leave Frogmore Cottage and didn't make any attempts to overturn  the decision. The source added Harry, 38, and Meghan, 41, were happy to raise their two children in California.  
Hot Ones, which has acquired billions of views since its inauguration in 2015, producers wondered why the prince didn't reach out to them given he was on his promotional tour for his book, Spare. 
The format of the show involves Evans and his guests eating ten chicken wings, each prepared with a progressively hotter hot sauce. Evans states the show's tagline at the beginning of each episode: 'The show with hot questions, and even hotter wings.' 
Game of Thrones actress Maisie Williams is another British A-lister who chowed down on spicy chicken wings with Evans back in 2019
Actress Scarlet Johansson couldn't stop bouncing in her chair during the challenge in 2019
Grammy award winning singer Lorde stepped up to the challenge, scoffing all 10 wings without breaking a sweat or shedding a tear. YouTuber David Dobrik ended up vomiting in a trash can.
Singer Selena Gomez, and talk show host Jimmy Kimmel went head to head on the show which ended up with pair crying and desperately drinking milk to alleviate the burn. 
Emmy winning British actress Maisie Williams shivered uncontrollably while eating the spicy wings but managed to complete the challenge.
As did Stranger Things Millie Bobby Brown, who took on the challenge with aplomb- despite grimacing throughout the ten rounds.
On the most recent episode, former One Direction crooner Niall Horan appeared on the show to promote his new single Heaven. Before he started the challenge the Irish singer stated he thought it was better TV when people have 'snot running everywhere'. during their interview. 
Niall completed the challenge during which he started to visibly shake.
Prince Harry is certainly no stranger to appearing on celebrity-loved talk shows, having done several on-air interviews in order to promote his bombshell memoir Spare.  
Harry's explosive tell all laid bare the estrangement from his family – and the accompanying TV interviews that the Duke took part in saw him reveal even more bombshell stories and allegations about his family.
After appearing on numerous shows including ABC's Michael Strahan, 60 Minutes with Anderson Cooper and US breakfast show Good Morning America, Harry then went on to down tequila shots in an interview with The Late Show's Stephen Colbert to promote his explosive tell all.
Critics labelled the Prince's numerous sit downs 'The Whine Tour' – and his interviews were also the source of much mockery in a recent episode of South Park called 'The Worldwide Privacy Tour'. 
 If former Hot Ones celebrity guests have shown in years gone by,  Harry may had real reason to shed tears by downing the fiery hot sauce.  
'Most celebs appear on Hot Ones to promote their newest project-it's strange Harry didn't reach out as he was on various shows including one where he necked shots of tequila', a show source said.
The Duke and Duchess of Sussex (pictured in 2018) tried out various delicacies while on tour in Melbourne Australia 
Harry and Meghan (pictured in South Africa in 2019) famously got engaged as she prepared a roast chicken at Nottingham Cottage, on the grounds of Kensington Palace
Prince Harry eating a meal under his turret when he was on tour in Afghanistan in 2008 
Could Meghan have given a clue to her husband Harry's bland palate last year? The former Suits actress told, Variety Magazine, in a glossy fashion shoot and interview, that her husband is a fan of low brow fast food restaurant, In-N-Out Burger. 
'People sometimes think we live in Los Angeles, but we're a good two hours outside of it. We're commuters. We drove down recently for a day of back-to-back meetings , equipped with chocolate chip cookies the size of my toddler's head. 
Also, my husband's favorite is In-N-Out. There's one at the halfway point between L.A. and our neck of the woods. It's really fun to go through the drive-thru and surprise them. They know our order.' she said. 
Evans states Khaled was the worst person on the show, 'in performance by a mile.'
The LA born producer appeared as one of the first guests on the show, but there hasn't been a guest on since who has matched Khaled's dire record. 'Dj Khaled tapped out after three wings and now we're in the 20th season that was in the first season', Evans said, adding:   
'Now we're in the 20th, we've spent eight years waiting for someone to break DJ Khaled's record and I don't think that's ever going to happen.' 
DJ Khaled left fans bemused after bowing out after only two chicken wings after around 5 minutes into a 17-minute show bowing out at round two.
When Chicago natives, Barrack and Michelle Obama visited the royals in London during their stint in the White House, Prince Harry revealed in an Instagram post how he'd devoured a Chicago pizza despite having previously given up. 
'I don't even eat pizza anymore but I had pizza last night,' he said, in a video posted on Kensington Palace's Instagram page. 'We had deep-dish and we had thin crust.'
Famously, Harry and his brother Prince William once swapped out their nanny's dinner note for another one they wrote themselves, requesting pizza. 
A former chef at Kensington Palace said their childlike handwriting had given the game away and they brothers ended up with their usual supper of roast chicken with all the trimmings.
Prince Harry has developed a penchant for chicken dinners having famously proposed to his now wife Meghan Markle, over a roast chicken supper.
Post source: Trending Today London