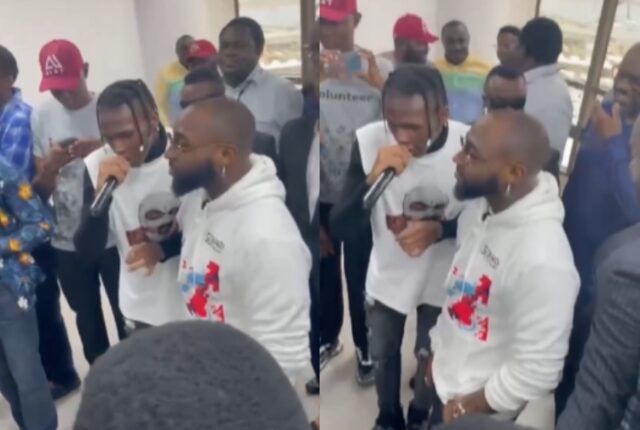 Kinq Brizy, a Nigerian artiste, recently had an incredible opportunity to display his talent in front of superstar musician, Davido, and he surely left an indelible impact.
The meeting occurred at an event hosted by ALAT, a digital bank, titled "Sounds of ALAT," with Davido serving as their brand ambassador.
Brizy, giddy with enthusiasm, took the stage and grasped the opportunity to perform.
He demonstrated his abilities by singing a remixed version of ALAT's jingle, which drew the attention of DMW boss himself.
A video of Brizy singing alongside renowned singer Davido, who was plainly enjoying the performance and nodding his head to the rhythm, rapidly went viral online.
As Brizy's melodious rendition continued, it captivated not only Davido but also the other guests in attendance and members of the DMW crew.
The crowd couldn't resist joining in, adding their voices to the performance.
The atmosphere was electric, and as the performance reached its climax, loud cheers filled the air.
Davido, clearly impressed by Brizy's talent, expressed his admiration by applauding the young artiste towards the end of the performance.
See below;