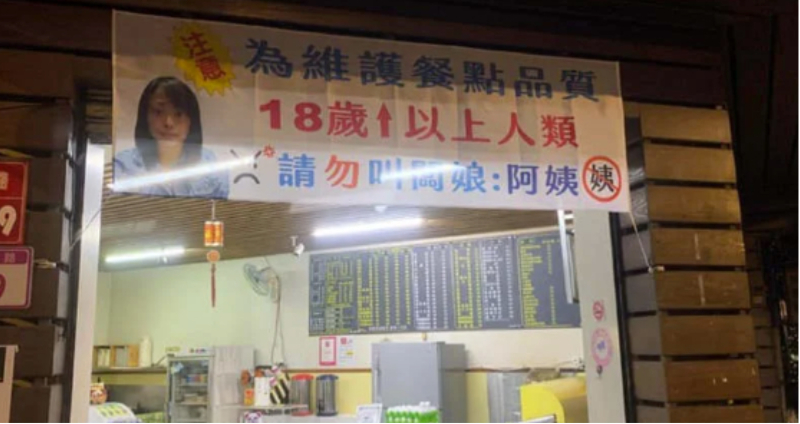 SharkBites Newsletter
Asian America Daily – in under 5 minutes

What's happening in Asian America? Get a daily email to stay informed, educated, and entertained.
A coffee shop owner in Taoyuan, Taiwan, hung a banner in front of her shop asking customers above the age of 18 to stop addressing her as "auntie."
One customer shared on social media that when he addressed the owner as "auntie," she ignored his order.
The banner, which includes a photo of the owner, states that customers must not address her as "auntie" in order to maintain quality food.
Fed up with customers calling her "auntie," a coffee shop owner in Taiwan hung a banner in front of her shop stating that customers over 18 are not allowed to address her as "auntie."
Located in Taoyuan City of northwestern Taiwan, a customer who visited the coffee shop shared the peculiar rule on the Baofei Commune Facebook forum. While ordering smoked chicken with onion and a glass of cold milk, the user, Chen Fuyun, said he addressed the owner as "auntie." She ignored his order, and a fellow customer pointed towards the banner outside the shop. After correcting his mistake, the owner stated that the sign was made for customers like Chen. 
The banner, hung on the entrance of the store, displays a photo of the owner along with a message stating: "To ensure the standard of the food served, adults aged 18 and above must refrain from referring to the stall owner as 'auntie.'" 
The coffee shop owner purportedly did not like customers assuming she was a generation older, although her age was not specified. 
Chen said he immediately addressed the owner as "beautiful lady boss" and stated in his post that the food was good and that he did not find anything strange in his meal.
Internet users responded that women should be referred to as "older sister" while men should be addressed as "big brother." Some users explained that rather than guessing an individual's age, it is more polite to call men "mister" and women "miss."
Featured Image: Baofei Commune
Support our Journalism with a Contribution
Many people might not know this, but despite our large and loyal following which we are immensely grateful for, NextShark is still a small bootstrapped startup that runs on no outside funding or loans.
Everything you see today is built on the backs of warriors who have sacrificed opportunities to help give Asians all over the world a bigger voice.
However, we still face many trials and tribulations in our industry, from figuring out the most sustainable business model for independent media companies to facing the current COVID-19 pandemic decimating advertising revenues across the board.
We hope you consider making a contribution so we can continue to provide you with quality content that informs, educates and inspires the Asian community.
Even a $1 contribution goes a long way. Thank you for everyone's support. We love you all and can't appreciate you guys enough.


Post source: Nextshark