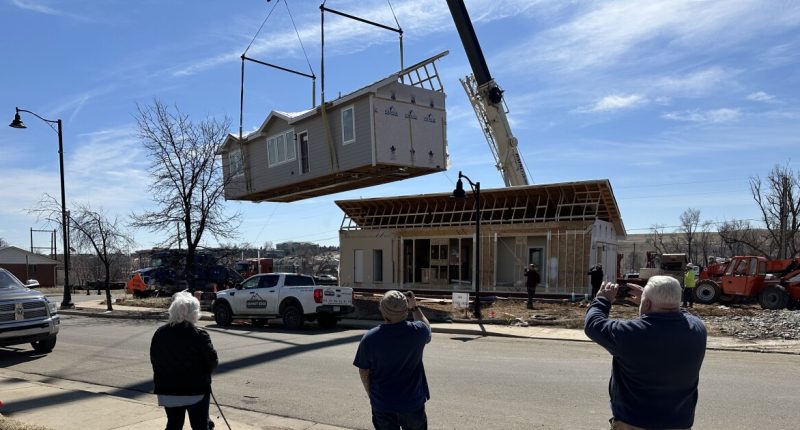 SUPERIOR, Colo. — No matter how many tough days we face, there are always better days ahead.
"This is exciting," said Lecia Hupfer as she watched crews use a crane to drop in her parents' new prefabricated home in Old Town Superior. "Holy moly. I'm watching them set half of the house."
"We've been waiting for it for a long time," said Della Gibson, who lost her home of more than 50 years in the Marshall Fire.
Della and her husband, Keith, are finally moving back home nearly a year and three months after they and most of their neighbors saw their homes destroyed during Colorado's costliest wildfire in history.
"We could see the smoke from Broomfield," Hupfer said. "We didn't realize it was that bad until we started watching the news."
"I'd come here after school and hang out with my grandparents when I was a kid," said Harley Gibson, Della's grandson. "And on weekends I'd be out here playing with friends in the dirt. So, we all kind of grew up here."
The whole Gibson family was there Wednesday — Della, Keith, their children, grandchildren and one great grandchild — as their new home was delivered by Country Land and Homes and Mason Construction.
"We transport them, that's my side of the business," said Trevor Sage with Country Land and Homes. "It's built in a factory in western Nebraska under climate control. It's going to come out looking beautiful."
Hupfer said the home was shipped from Nebraska to Fort Collins and then to Superior, where crews will then strap it down with a crane. She said the process to get the home after months of waiting "has been something," but it was worth it because her parents are 78 and 82. "They've lived here almost 60 years," she said.
"This one is pretty special just knowing what these people went through," said Sage.
The Gibsons can once again call the corner lot in Old Town Superior home sweet home.
"My corner of the world," said Della Gibson. "I'm glad for my grandma because she finally gets a brand-new house for the first time in her life," said Harley Gibson. "She deserves it."