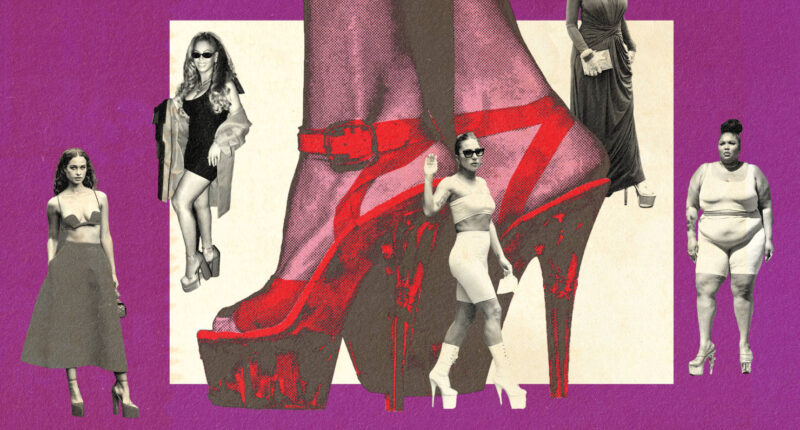 Whether we're talking sparkly thongs or fishnet stockings, few professions exist within the sartorial imagination quite like stripping. Provocation and suggestion have always been the intention, a visual aesthetic that's meant to play into a sexual fantasy but has been highly stigmatized in the process. But as social norms surrounding sex have continued to evolve, stripper wear has gone mainstream, with dancers taking notice of one particular trend that's now sparked a big online debate about appropriation versus empowerment.
As a former stripper named Jaylen explained, a stripper's "dance wear is almost like a uniform." That said, the "stripper heel" is probably "the most defining piece of the stripper aesthetic," as the Chicago-based exotic dance wear designer added, especially the ones with a clear acrylic heel.
The shoe style is so important that it's actually a requirement at almost every club in the country, according to another dancer in Los Angeles named Hero who recalled times when they "showed up at work and realized, 'Oh shit, I forgot my shoes. I can't work.'"
A lot of this hinges on the expectations of club owners and patrons, but part of the stripper heel's importance also stems from the requirements of the job. Like any other type of dance, stripping is a physically demanding activity that also requires specialized footwear—namely a type of high platform heel, which is also referred to as a Pleaser after the company that became the industry standard back in the '90s.
Despite having a sky-high heel that most clubs require to range from six to ten inches, stripper shoes actually are easier on dancers' feet, because the platform is at a lower angle and has an ultra-firm base. Designed to evenly distribute a dancer's weight and help them perform aerial pole tricks, the solid one-piece construction enables them to keep performing during long shifts, while the rubberized bottoms, extra padded insoles, and notched heel ensure they stay safe on the slippery floor.
"It's so fucking dangerous to wear a regular ass heel while dancing. I mean, it can even be dangerous to wear Pleasers while dancing," Hero—who uses they/them pronouns—told The Daily Beast. "But they've been in the game for a really long time for a reason, and they've done all the practices and the tests to make sure their shoes are as safe as they can be."
Meanwhile, Austin-based dancer Renee said potential injuries directly affect a dancer's livelihood, to the point where not having Pleasers turns into an issue where people aren't able to pay their bills.
However, the design also means that wearing stripper heels on any non-flat surface is quite hazardous, so it's safe to say that "civilians"—a.k.a. non-sex workers—aren't buying them out of practicality or necessity. Rather, their recent surge in popularity is a direct result of the shoe making its way from the strip club to runway shows for designer brands like Valentino, Saint Laurent and Christian Louboutin.
Shortly afterwards, they began appearing on the feet of stars like Beyoncé, Lady Gaga and Kim Kardashian, who paired Marilyn Monroe's "Happy Birthday Mr. President" dress with some Pleasers at the 2022 Met Gala. Even Dame Helen Mirren has talked about her love affair with the shoe in an older interview, where she credited stripper heels for giving her the confidence to stand "in a room full of incredibly beautiful women who are at least a foot taller." And after the internet latched onto the shoe, the fast fashion machine took over from there, though that seemingly hasn't affected the demand for Pleasers.
Like Mirren, civilians who wear stripper heels talk about how "empowered" they feel while wearing these "sexy" shoes. And while there's some legitimacy to this argument, the reality is that they're specialty items that actual strippers need to replace every few months due to wear and tear and the shoes' skyrocketing popularity is making them harder to find and more expensive.
Designer Yung Reaper, who creates sex worker-inspired clothing and has a collaboration with Dolls Kill—a fast fashion brand that's been at the center of multiple controversies involving appropriation, offensive merchandise and stealing designs—was widely criticized recently for encouraging her followers to hop on the trend and dismissing the concerns of a number of sex workers. In a since-deleted Instagram post, Reaper wrote "if anyone is mad that I wear Pleasers even though I'm not a SW leave now."
Dancer Renee says that comments like Reaper's ignore the fact that strippers are now forced to wait months to get club-mandated styles in their size.
"You had a lot of people doing OnlyFans and you had a bunch of civilians at home with extra money trying to look out online," as Renee explained, before confirming that the trend has made it so that "everything is suddenly on back order or sold out."
"If someone wears stripper shoes, and then all of their followers see them wearing stripper shoes, then it's like, 'Oh, this is the new trend.' And what happens? Every civilian girl in the world is like, 'I want stripper shoes,'" Renee said. "They buy them up in all the main sizes, making it more difficult for people that are sex workers to get their shoes. And then they wear them once for a photo and then they don't wear them again."
While there are other brands that offer similar styles, longtime stripper and exotic dance teacher, Onyx Black, explained that Pleasers tend to be more comfortable and, therefore, remains the preferred shoe of full-time dancers. However, Pleaser itself has been capitalizing on the fashion trend and pole fitness craze by marketing their shoes to "everyone," specifically to hobbyists, influencers and their followers, who "love to be free hoes now."
Onyx noted that in addition to the shortage there is a lack of awareness surrounding the issues actual strippers continue to deal with on a daily basis, including discrimination, exploitation and risks to their emotional, mental and physical safety. But what makes it worse is when "the pole fitness bitches who have 90 totally brand new pairs of shoes in different colors" put their "whorephobia" on full display, whether it's side-eyeing more sexual moves or arguing that pole is only about fitness and art, complete with the judgmental #notastripper hashtag.
In these cases, this attitude is not only a dismissal of pole's origins, but a clear double standard against sex workers who are doing the same exact thing in a slightly different context. Unlike the #notastripper crowd, sex workers are under constant threat of criminal punishment. Hero said during their time in Houston city police would arrest you for solicitation if you wear stripper shoes outside of a club.
So while some strippers don't mind the trend, there are a fair number that are completely against any civilian capitalizing on their aesthetic, including Jaylen, who started a Reddit thread about the appropriation of stripper wear a few months ago. While she understands that most civilians are trying to embrace their sexy sides and agrees that "all women should be able to wear whatever they want in confidence," there are still some lines that shouldn't be crossed, especially when it comes to civilian companies "blatantly exploiting our aesthetic for profit."
"The reality is that strippers have always been a spectacle to the outside world. There is always an opinion," Jaylen said. "No one ever encounters a stripper in public and thinks, 'Oh that's nice' and moves on with their day.' It's, 'Oh she's a stripper, that poor girl,' 'Oh she's a stripper she must be a slut,' or 'Oh she's a stripper, I could never do that!'"
In Hero's case, they're fine with civilians owning stripper shoes, particularly any pair that isn't specifically designed for stripping or pole dancing. Their only requirement is that the wearer is "respectful of its origins."
Renee says civilian women co-opting stripper wear should at least be cognizant of what the attire represents for sex workers.
"Owning a clear pair of Pleasers and having an understanding and a respect for where they come from is very different from someone that wants to cosplay as a sex worker," she said. "It's the people who dress like a stripper and get all the clout for looking like one, without having to deal with any of the consequences or life-ruining repercussions that come with the actual work."
"If everyone and their mom is wearing Pleasers but don't do anything to push for destigmatization and decriminalization of the people that invented the shoe style or need them to live, that pushes strippers even further out of the conversation," Renee said.


Post source: TDB