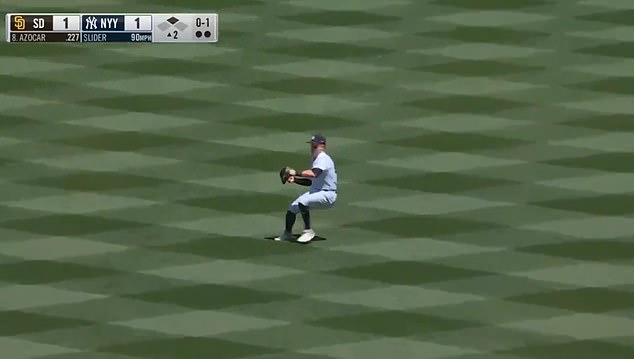 'Were they throwing the ball with their eyes closed?': Yankees' awful fielding goes viral on social media as Padres single turns into little-league homer with THREE errors in quick succession
Bader & Higashioka's awful throws plus Cole's inaction cost the Yanks three runs 
But the Yankees recovered, going on to defeat San Diego 10-7 Sunday afternoon 
DailyMail.com provides all the latest international sports news 
The New York Yankees seemed to be on holiday mode when playing their game against the San Diego Padres as the team gave up two colossal errors to give up a little-league homer.
With eight-hole hitter Jose Azocar at bat and Ha-Seong Kim at second, Yankees starter Gerrit Cole toed the rubber at the top of the second as the game was tied.
But two mental errors from the Yankees fielders allowed both runs to score as Azocar blooped a single to center.
Center fielder Harrison Bader charged the ball and tossed it home to try and prevent Kim from crossing the plate.
However, Bader put too much on his throw and sailed it high and far over the head of catcher Kyle Higashioka.
The Yankees gave up a little-league home run starting with this throw from Harrison Bader
Bader's toss went over the head of catcher Kyle Higashioka as pitcher Gerrit Cole stood at the mound, unwilling to help his catcher as the play continued to unravel before his eyes
Higashioka's throw then sailed too far away from third base, allowing Jose Azocar to score
With Azocar rounding second headed for third, Higashioka looked for the chance to get a cheap out and end the inning there.
However, he too made a throwing error – sending his throw way-too-high and way-too-left of third baseman DJ LeMahieu.
All told, San Diego got the bases empty and took a 3-1 lead over the Yankees on their home turf.
The entire time, Cole stood there and did nothing to back up his catcher on the play as he watched it all unfold with no reaction. 
Fans on social media were left in agony as they saw their beloved Pinstripes making serious blunders.
'That may be the worst defensive play I've ever seen in my life. Embarrassing,' one Twitter user said.
Another wondered, 'I actually can't tell what the worst part of this was. 1) Bader's throw 2) Higgy's throw 3) Cole not backing up anything, and instead sitting there pouting.' 
'A basic single turns into a little league home run,' another wrote. 'How embarrassing.' 
Yankees fans and baseball lovers laughed at New York for their series of blunders
But the Yankees came back in the game – going on to defeat San Diego 10-7 on the day
But not all was doom and gloom for the Bronx Bombers this game – and by the next inning they had turned things around.
The Yankees responded by plating seven straight runs off Padres starter Yu Darvish and reliever Drew Carlton to end the third inning up 8-3.
New York didn't stop there, tacking on a home run and plating another runner in the bottom of the eighth to put ten runs on the board – going on to win 10-7.
With that win, the Yankees move to 32-23 on the year, sitting seven games back of the lead in the AL East and well within an AL Wild Card spot.
They hit the road out west for a seven day road trip. New York will play three games against the Seattle Mariners and then three against the Los Angeles Dodgers.


Post source: Daily mail