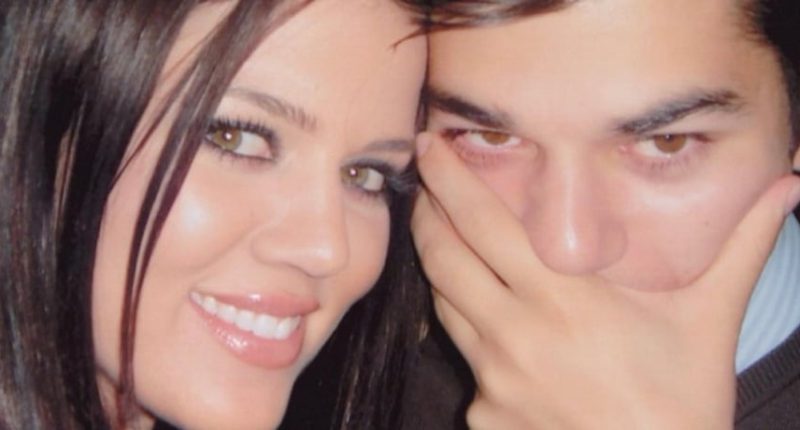 Latest posts by Kelly Summers
(see all)
Khloe Kardashian has shared rare photos of brother Robert Kardashian as she honors her brother's 36th birthday.
The reality star, 38, posted to Instagram yesterday and with an insight into a lesser-known Kardashian. While brother Rob has featured on the family's televised shows, he tends to keep a lower profile. Khloe opened with a photobooth shot as she pouted into the camera with a smiling Rob next to her, and there was plenty more to come!
Sharing Rare Photos For Brother's Birthday
Khloe gushed over her brother as the gallery also included an image that was likely recent. The blonde posed indoors and wearing her long locks down as she sent out a soft smile, with Rob seated near her. The Rob & Chyna alum looked noticeably slimmer as he wore a simple black t-shirt and matching baseball cap. Looking happy and healthy amid his past weight battles, Rob appeared relaxed.
Kim and Khloé Kardashian Gush Over 'Baby Bobby Boy' on Brother Rob Kardashian's 36th Birthday https://t.co/BGwveEOGG5

— People (@people) March 17, 2023
Khloe also included childhood moments including a shot of Robert likely under the age of ten. She made sure to shout out her deceased father, too. Khloe is shared by mom Kris Jenner, 67, and lawyer Robert Kardashian, who passed away from cancer in July 2003.
Talk About Love!
In a lengthy caption, the Hulu star opened: "It's one of my most favorite days because it's one of my Most favorite human being's birthday!! My baby bobby boy." She added:
"My wish for you is a thousand wishes And for them all to come true. That you wake up one day and you know with everything inside your being that you are enough. You've always been enough. My wish is that you feel what anyone feels when they are in your presence, complete bliss and respect! You make people feel safe and that they are home when they are around you."
Khloe Kardashian wish brother, Rob Kardashian a Happy Birthday  https://t.co/8mtWZe7RXz

— DaRealestQueen (@babiousB) March 18, 2023
Suggesting that Rob might not be happy, though, the ex to Tristan Thompson continued that she wants happiness for her brother. In fact, it's what she wants the most. For him to be "happy."
Rob continues to make headlines for his ugly legal battles with ex and baby mama, Blac Chyna. The former couple shares daughter Dream, who regularly hangs out with Khloe's 2018-born daughter True.
Couldn't Be Prouder
Continuing, Khloe wrote: "Robert I couldn't be prouder to say I am your sister. I couldn't be luckier that I get to call you whenever I want about absolutely nothing. I thank God every day for our relationship and the relationship with our children."
Also marking Rob's special day was sister Kourtney Kardashian, 43, plus mother Kris. Rob is active on Instagram, but he seems keen to steer away from the press and media attention. For now, though, it's all eyes on Khloe's IG as she shares those rare snaps!